Person info pt 6 - Adding Parents
This is how to add parents to a persons page.
When you press "Add New" on the parents section, you will be sent to a new window.
First section you do not need to do anything.
Tree – There is only one tree here.
Branch – You can set it if you wish but it will be assigned on regular updates of the tree.
Family ID – is set automatically, no need to specify.
Second section is where you create/add the parents. 

Below you will see options on the different buttons above. Remember to make sure you mark of if they are living or not and if you want it to be private or not.
Find
Press "Find" and a pop up will appear with the possibility to look up the person.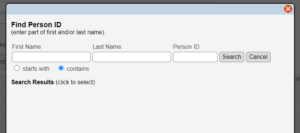 Type in and select.
Create
Edit
Remove
After you have added them, you can add in the information about their wedding with dates and locations. You can add more to this later 

When entering dates, please use the standard genealogical format DD MMM YYYY. For example, 10 Apr 2004. 
You can on some browser just type in DD/MM/YYYY or MM/DD/YYYY and it will convert it to the above format.
You can also add just the year or year with month, just make sure it shows as MMM YYYY for example "Jan 2021"
If you do not know the date, put a "y" in there. That will generate "Yes, date unknown" in the box.

If you know the place, you can type it directly in. As long as you follow our guidelines on how the locations to be entered.
Example : Street, City, County, State, Country
It must be in that order and make sure it ends with the country at the end.


  Search – This is the search button, a pop up window will appear where you can look for the people/locations you want.  When you have found it, click on the link and it will be pasted.
—-

Additional – This is to add additional information button but it has not been used for anything yet.
—-

Notes – If you have information you wish to share about the place. Pop up box will appear and you can type in the notes and also set it to private or not. Then press save. You will see a blue dot by the notes button.
—-

Sources – If you have a source confirming their name. More info HERE (coming soon)
After you have added both parents press save and continue.

You should now see the person that you was adding the parent to.

If you wish to add more children, press find or create. They are the same functions as above.
When finished, press one of the save options.